Jeep Commander Price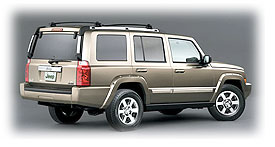 By John Stewart
On Sale: Fall 2005
Expected Pricing: check out www.jeep.com
Signaling an expansion of the Jeep brand concept, the Jeep Commander becomes the first seven-passenger Jeep, and the vanguard of a product offensive intended to broaden the Jeep line well beyond its current three-vehicle lineup. Unfortunately the jeep commander price is yet to be known.
The Jeep Commander is loaded with Jeep styling cues, such as an upright windshield, round headlights, seven-slot grille and blocky, stout mirrors. From the front of the vehicle, the Commander's hood and grille remind us of the now-discontinued XJ Cherokee. From the rear, the square, flat body panels, high roofline and vertical D-pillar assist handles make the Commander look more like a Hummer H2, but I am willing to bet the jeep commander price will be less.
The three rows of seats are arranged stadium-style, with each succeeding row higher than the other. The roof has been raised three inches to accommodate the seating design. Skylights, packaged with the sunroof, are located above the second row to create a greater sense of interior space.
The wheelbase of the Commander is identical to the current Grand Cherokee, as are the choices of engines and four-wheel-drive systems, but the Commander is two inches longer overall. While the rear seating is clearly intended for smaller people and shorter distances, the fact that the Commander can accommodate seven people makes it more suitable for SUV buyers who have larger families. By retaining the Grand Cherokee platform, the Commander maintains the Grand's exceptional recreational potential with few tradeoffs.
The Commander can hold up to 68.5 cubic feet of cargo with both rows of passenger seats folded. The instrument panel is two-tone and unique to the Commander.
Safety features include multi-stage air bags, available side curtain air bags, and seat belts equipped with pretensioners and load-limiting retractors. An electronic stability program (ESP), anti-lock brakes (ABS) and all-speed traction control (TCS) are standard, as is a tire-pressure monitoring system.
Like the Grand Cherokee, the Commander will be available with a choice of three full-time four-wheel-drive systems, and three engines, including the standard 3.7-liter V6, the optional 4.7-liter V8 and the 5.7-liter HEMI V8. All engines are backed by five-speed transmissions. A two-wheel-drive version will also be available, which will inevitably decrease the jeep commander price.
Two models will be available, Commander and Commander Limited. The Limited will include more chrome on the grille, wheels and D-pillar assist handles, and a standard V8.
1-800-925-JEEP (5337)
www.jeep.com